2012 was a big year for movies. We saw the third highest grossing film of all time, the end of perhaps the greatest superhero trilogy ever made, the start of the latest young adult book-based franchise, and the beginning of another hotly anticipated trilogy that would take us back to Middle-Earth.
And that doesn't include big surprise hits like Ted, the return of James Bond, and the rebooting of an only 12 year-old mega movie franchise.  But amidst all these major movie blockbusters that garnered all the media hype, it was easy to miss some great movies that were in the 2012 lineup.  We don't want you to miss out on these hidden gems, so we wanted to put together a list of the best films from 2012 that you probably don't even remember coming out.
Hit & Run
It's not often that action movies with big names like Bradley Cooper and Kristen Bell go under the radar, but this action-comedy about a former getaway driver on the run from his old gang didn't generate much buzz when it released earlier in 2012.
After spending time in the witness-protection program, Charlie Bronson (Dax Sheperd) vows to get his new girlfriend to LA in time for the interview of a lifetime.  Unfortunately, her jealous ex-boyfriend digs up his past and alerts his old crew.  Chaos and car chases ensue in this witty film that sees Bradley Cooper playing a neurotic gangster and Tom Arnold as a less-than-proficient US Marshall as they both try to track down Bronson.
If cars, explosions, and clever action one-liners are your movie preference, be sure to pick up Hit & Run soon.
Your Sister's Sister
Released to only double-digit theaters this past summer,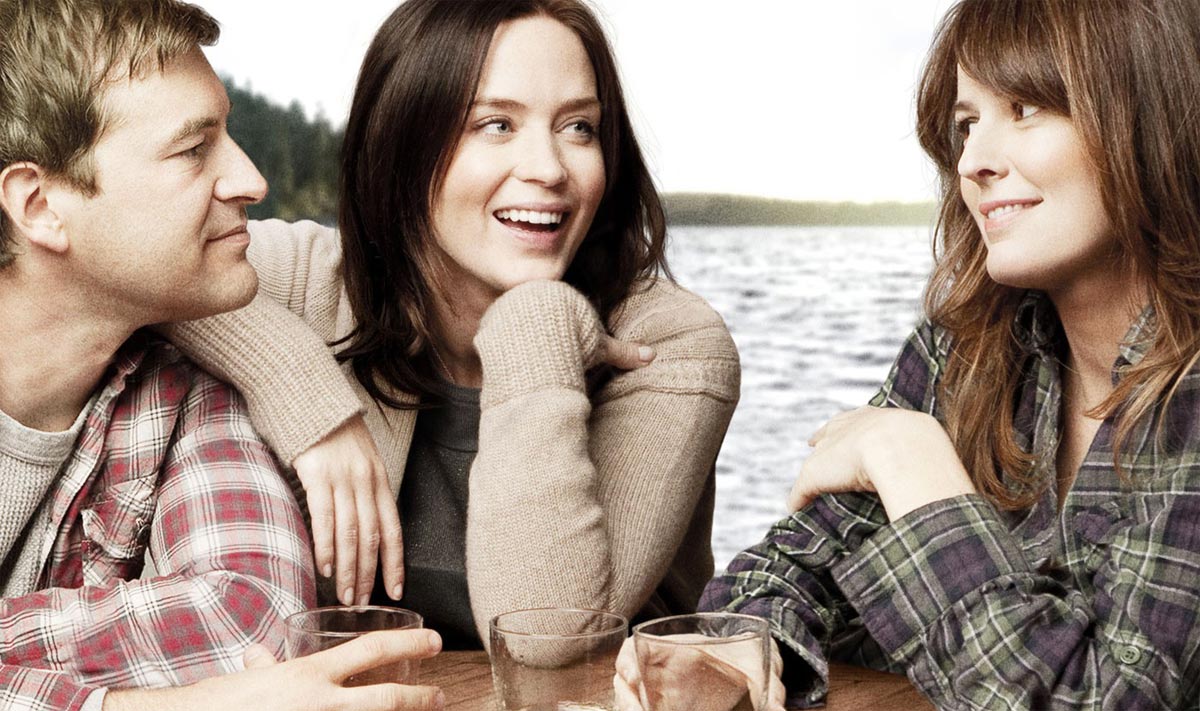 Your Sister's Sister is an indie romantic comedy about two friends trying to move on from the death of a loved one.  To help Jack (Mark Duplass) get over the loss of his brother a year earlier, Iris (Emily Blunt) suggests he spend some time in her family's remote cabin.  When he takes her up on this offer, he finds her sister already there drinking away her own heartache.
Well, one thing leads to another as they often do in romantic comedies and when Iris surprises Jack and her sister by showing up the next morning, the three find themselves caught in a problematic triangle as the weekend quickly unravels and some secrets and deception change all their lives forever.
Your Sister's Sister is one of those unique romantic comedies that doesn't stick to the standard formula and finds the main characters in a situation that no one would envy.  It moves along with a wit and dry humor that might not be for everyone, but if you like small budget films, this is an entertaining tale of love, life, and mix-ups.
Safety Not Guaranteed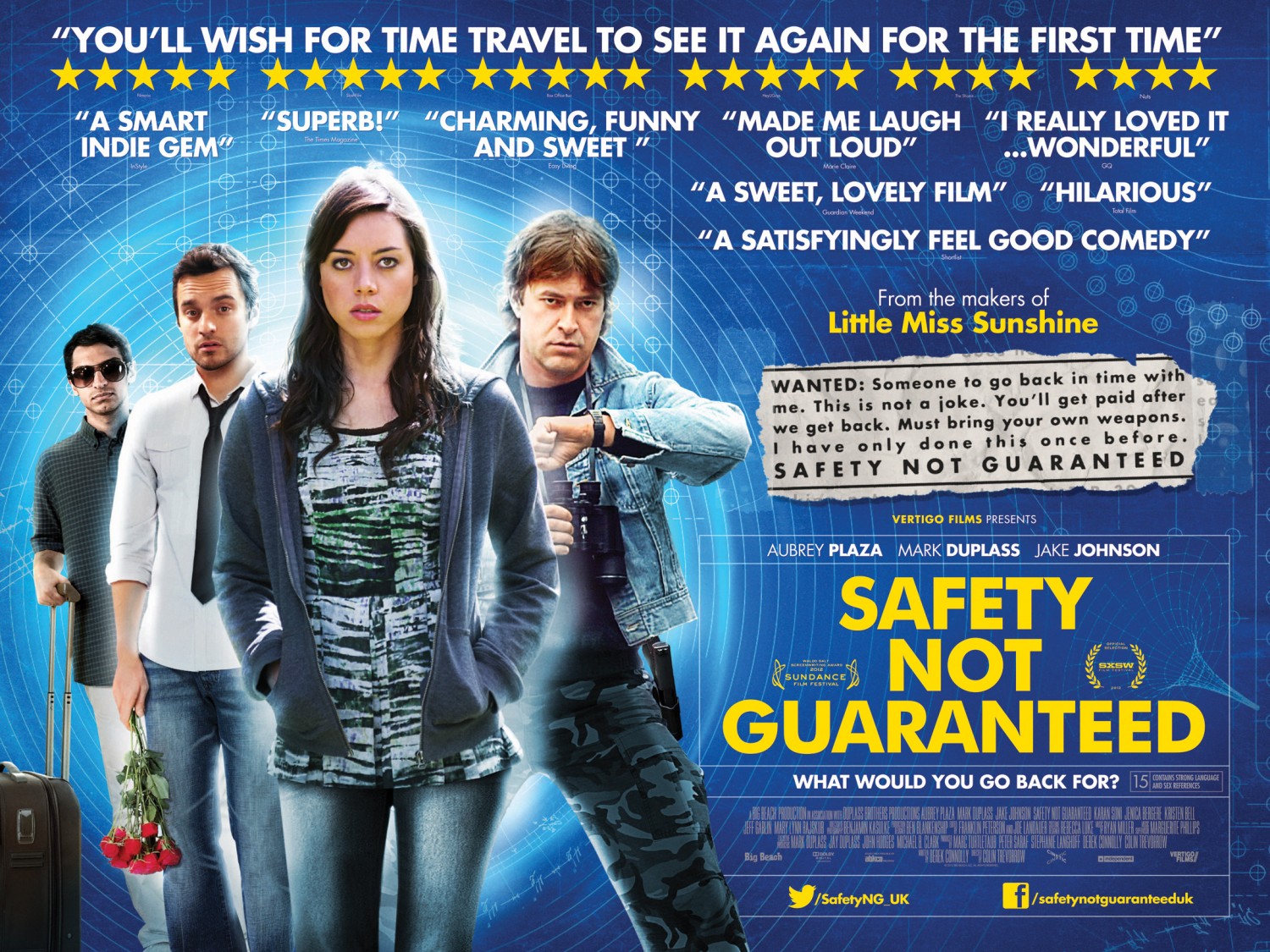 A newspaper editor (New Girl's Jake Johnson) stumbles upon a classified ad from Kenneth (Mark Duplass), a grocer in a small town in Washington, that is asking for someone to go on a dangerous time-traveling mission with him.  "Safety not guaranteed."  To write up a story on this man, he sends one of his interns, Darius (Aubrey Plaza), on a journey to discover if Kenneth is insane or if just maybe he's onto something.
By spending time with Kenneth to prepare for their "time jump," Darius begins to see the real person inside as they develop and unexpected friendship.  Safety Not Guaranteed tells a quirky tale of friendship, romance, and trust when a person's sanity is in question.  The dialogue is well-written as we see the characters transform as they come to terms with growing older and discovering themselves all the way up to the climatic ending.
Bernie
A based-on-real-events comedy starring Jack Black, Bernie tells the tale of Bernie Tiede, a small Texas-town mortician that wins over the hearts of the entire community with his charm and kindness.  One day, while attempting to console the ice cold and super rich Marjorie Nugent (Shirley MacLaine) after the death of her husband, Marjorie surprisingly befriends Bernie and makes him her personal assistant and close friend.
This arrangement turns sour as Bernie starts to feel imprisoned by his friend and boss and sees it affect his personal life and cheery disposition, forcing Bernie to take drastic action.  Can Bernie continue on as if everything is normal? What about when tough Texas district attorney Danny Buck (Matthew McConaughey) is on to him?
Bernie is not your typical film and certainly not a common role for Jack Black, but it is a light-hearted movie despite the events that transpire and it's great to see Black's portrayal of such a unique character in this real-life story.
Salmon Fishing in the Yemen
Picking up three Golden Globe nominations this year (Best Comedy, Best Actor, Best Actress) Salmon Fishing in the Yemen is a delightful satirical comedy about an eccentric sheik who desires to create a river that is fully stocked with salmon so he can bring the sport of fly-fishing to Yemen.  His British financial manager, Harriet (Emily Blunt), attempts to enlist the help of Scottish scientist, Dr. Alfred Jones (Ewan McGregor) to complete this wild project, but he proclaims the task absurd and impossible.
After getting pressured by the British state department, Dr. Jones agrees to attempt the feat and travels to Yemen.  There he is surprised to find himself falling for Harriet while working together on the project.  Ultimately, Salmon Fishing in the Yemen is an uplifting journey of faith, love, and daring to do the impossible as two people work together to make this world a little better place.