In 2010, you probably watched a number of great films like Toy Story 3 and Inception, but amid a slew of huge hits like these, you may have missed a few wonderful films that you probably should check out (if you did see them, congrats, you're awesome and you have good taste in movies).  Here's five of the best of them from three years ago.
The Secret of Kells tells the fictionalized tale of a young Irish monk, Brendan, who lives in a secluded Christian abbey during the Dark Ages (8th century).  Brendan is trying to help create and preserve the famous Book of Kells, an illustrated manuscript of the Bible, but it's harder to do that he would have imagined.  Brendan must do battle with a Celtic pagan deity and resist an invading army of Vikings.   It's a beautifully illustrated, magical story loosely based on monastic Irish history.
Winning audiences over in Ireland and all of Europe with its vivid and beautiful animation, The Secret of Kells made it stateside in 2010 just in time to be nominated for the Academy Award for Best Animated Film.  Trust me when I say that it's worth watching just for the art style.
Would you believe that Ryan Reynolds' highest-rated movie (we're not
counting Adventureland since he wasn't the lead) on RottenTomatoes.com is a movie that only grossed $1 million domestically?  Believe it. Buried is a tight thriller where Reynolds plays an American truck driver in Iraq who wakes up buried alive in a wooden coffin with only a lighter and a cell phone.
He must piece together how to get out as he races against time and his limited air supply in this tense thriller.  Rent it soon to see if he can discover the how and why he got buried, and more importantly, if he can do something to escape.
You might have seen this one if you are really into video games and/or "nerd culture."  Well, regardless of your hobbies, the film adaptation of the American manga Scott Pilgrim Vs. The World earned rave reviews and an 81% on RottenTomatoes.com.  Unfortunately, it debuted as only the #5 movie its opening weekend and grossed barely over half of its production budget.
Don't let financials deter you though, Scott Pilgrim gives us a quirky, bubbly, action-packed tale about a guy who just wants to get the girl… however, he must first fight, yes physically fight, her seven evil ex-boyfriends.  Plus, all of them have some sort of special power or fighting skill to boot.  Sounds crazy, right? It is… crazy awesome! Scott Pilgrim provides a fun, unique ride for any movie-goer who isn't turned off by the live-action manga/anime-style special effects.  Oh ,and it stars Michael Cera, Chris vans, Anna Kendrick, Aubrey Plaza, and Mary Elizabeth Winstead.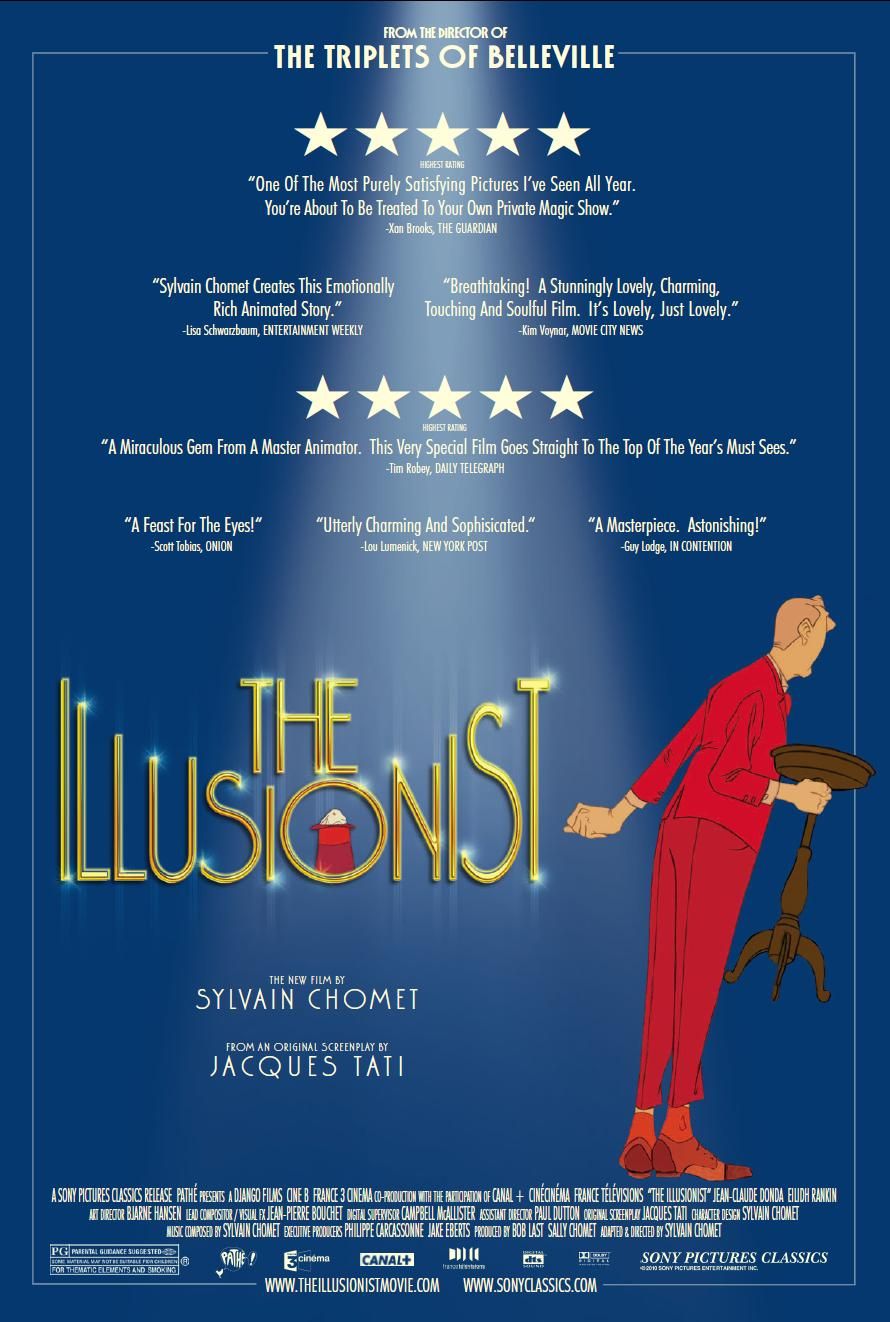 Another foreign animated film graces our list with L'Illusionniste (The Illusionist) from France.  Done in an old-school animation style and with little dialogue (similar to the first half of Wall-E), The Illusionist uses visuals and sound effects to drive the story of a down-on-his-luck illusionist, Tatischeff.  Dreaming of greener pastures, he moves from Paris to a remote town in Scotland to middling success when he meets a young girl who thinks he is a real magician with magical powers.
Earning a 90% rating on RottenTomatoes.com, The Illusionist is a beautiful and captivating tale that has won over critics worldwide by showing that the beliefs and love of a child can be very powerful indeed,.  Like The Secret of Kells, L'Illusionniste was nominated for an Academy Award for Best Animated Feature in 2010.
I'd be lying if I said that Biutiful was an uplifting tale, but it is a poetic story of love, fatherhood, and guilt in modern Europe.  Earning Javier Bardem his 2nd Academy Award nomination, this film shows us a poor cancer-stricken father living in Barcelona, who wrestles with guilt and does what he can to keep those he loves safe and sound.
The entire movie is in Spanish, so if you don't like reading subtitles (assuming you don't understand Spanish), then this one might not be for you.  But if you enjoy realistic, even if bleak, emotional portrayals of humanity, love and the human spirit, not many films do it better than Biutiful.